I'll be covering Dr. Oz's visit to OHSU today via this live blog.  The event, which we have told you about in previous blog posts, is an opportunity for Oregonians to learn of hidden health issues that may be secretly plaguing them and to take action through free screenings (by appointment) at the OHSU Center for Health and Healing.
And now for today's events:
4 am – Crew arrival. Following a full day of setup, the screening location is ready to go.
5 am – KATU's live coverage is underway. All is quiet right now at the event site…but that will soon change.
615 am OHSU's Dr. Chuck Kilo appears on KATU News This Morning to talk about today's event and it's message of taking control of your own healthcare.
645 am – Dr. Oz is here and appears on KATU News This Morning to talk about today's event. Dr. Oz says he expects to see diabetes and obesity issues in PDX based on what they have seen in other cities. However, he suspects that Portland residents are more healthy than residents in other cities.
7 am – posting photos of the event. See feed here.
Noon – Sorry for the silence, busy morning. We have seen about 200 people so far. We are also taking walk-ins until 2 pm. More stats to come.
1215 pm – I just uploaded a few more photos to our Flickr set. See link above.
1245 pm – The latest estimate is that we have 400 people show up so far. Looks like we will easily meet the goal of 500 screenings.
126 pm – A few photos from the morning: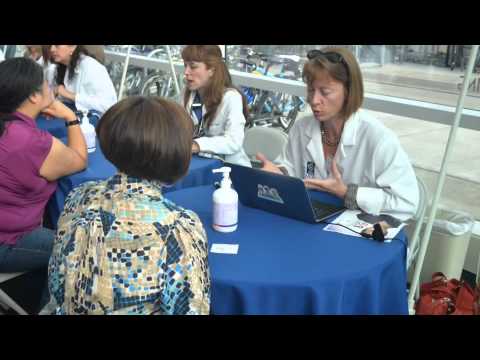 545 pm – The event is over. We saw about 500 people. According to the report card, Dr. Oz gave us, we have alot of work to do to get the population in better shape. Hopefully, today's event is the first step to fitness for many.