A field of gravel will soon be transformed into an educational first in Oregon.
Today the Oregon University System, Oregon State University, Portland State University and OHSU broke ground on the new OUS/OHSU Collaborative Life Sciences Building. The 480,000-square-foot building will place portions of Oregon Health & Science University, Oregon State University, and Portland State University under one roof. It will include lecture halls, classrooms, labs, specialty research centers, offices and a state-of-the-art facility for the OHSU School of Dentistry.
As for what it will do for OHSU:
Increase medical school class from 120 to 160 students
Increase dental school class from 75 to 90 students
Provide capacity to increase physician assistant program class size from 40 to 50 students
Provide capacity to increase in the pharmacy program from 90 to 115 students
Some more shots of the event can be viewed here:
In addition, OHSU President Dr. Joe Robertson spoke of the uniqueness of the project: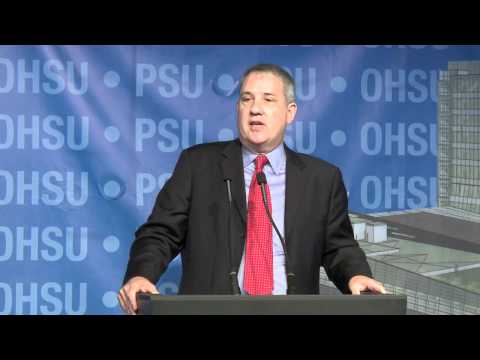 For more information about the OUS/OHSU Collaborative Life sciences Building, visit this link.