A Japanese Macaque Monkey at OHSU's Oregon National Primate Research Center is one of the oldest in the world and he's still going strong.
The monkey, named Trapper, lives in an outdoor corral with dozens of other Japanese Macaque monkeys at ONPRC. On Friday, animal care staff through a birthday party for him. He's turning 38.
The party will included a piñata, healthy animal treats, and wrapped presents for the monkeys.
Here is some video of the celebration – you will see trapper about 13 seconds in.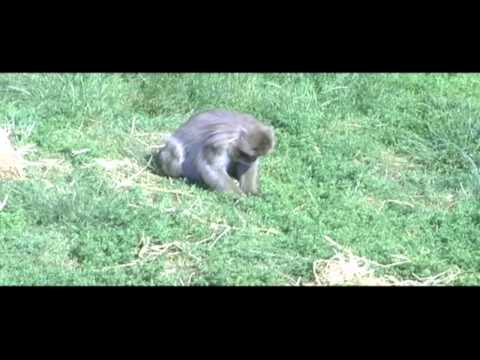 Trapper was born July 2nd, 1973. The entire Japanese macaque troop lives in a large (2-acre), outdoor corral at the primate center. Trapper's mother, Twiggy, was among 55 Japanese snow monkeys that arrived at the center in 1965. The primate center housed and cared for the monkeys when development of wilderness areas threatened their existence in Japan more than four decades ago.
There's a sign outside of the Japanese Macaque corral that tells more about how the monkeys came to live at ONPRC.
The Behavioral Services Unit, a subgroup of the primate center's large animal care staff, organized the birthday event. The unit helps care for the animals and promotes natural behaviors in monkeys such as foraging for food or grooming. The staff also conducts and publishes research on new and effective ways for caring for monkeys in captivity while ensuring their well being.